A Polymer Process Engineering & Training Company Home of the CRD Mixing Screws
VIP (Vortex Intermeshing PIN) Mixer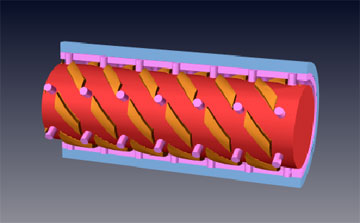 VIP (Vortex Intermeshing PIN) Mixer
(Patent 6,709,147; licensed to Sulzer Chemtech Inc.)

The effectiveness of the mixing action in the new intermeshing pin mixer is due to the active stretching and folding of the interfaces achieved by the intermeshing action of the pins into the screw flights and the relative motion between the pins and the screw. As a result, effective mixing can be achieved over a short distance. This makes the intermeshing pin mixer ideal for incorporation into an extruder or injection molding machine.

These mixers can be used in extrusion, compounding, direct-extrusion, foam extrusion, blow molding, and direct-injection molding. The VIP mixer fits in a conventional smooth barrel and, therefore, can be used in standard extruders and injection molding machines. Installation of the intermeshing pin mixer does not require modification of the extruder barrel or a barrel extension. As a result, installation is simple and straightforward.