Blown Film Extrusion Seminar
This seminar has filled up each year. Be sure to register early!


by Dr. Kirk Cantor

October 25 & 26, 2017
D. R. Joseph, Inc.
921 W. Harris Rd.
Arlington, Texas, 76001
+1-817-987-2030

Printable Outline and Scannable Registration Form, which you can email to Sietske@rauwendaal.com. We will send you an invoice and you can use the custom payment area on our home page to make a payment with a credit card or use a PO# and send us a check.-->

Early Registration (4 weeks Prior) --->

Use Capitilized section only if you are ordering 2 or more seminars per person!

Late Registration (within 4 weeks) --->

Use Capitilized section only if you are ordering 2 or more seminars per person!

NEARBY HOTELS
La Quinta Inn South
4001 Scots Legacy Dr, Arlington, TX 76015
Phone: (817) 467-7756
Holiday Inn Express Arlington (I-20 & Parks Mall)
1721 Pleasant Pl, Arlington, TX 76015
Phone: (817) 784-8750
Residence Inn South
801 Highlander Boulevard
Arlington, Texas 76015
+1-817-465-2244
Courtyard Dallas Arlington South
711 Highlander Boulevard
Arlington, Texas 76015
+1-817-465-5599
For Seminar Questions contact: Sietske Rauwendaal 530-269-1082 or sietske@rauwendaal.com
About the Seminar

This two-day program provides a broad overview of blown film extrusion, including materials, hardware, and processing methods. The computer-based "Blown Film Extrusion Simulator" will be demonstrated during the program. Attendees are encouraged to bring laptops, as they will be provided exercises with which to use the software. Upon completion of this seminar, attendees will be able to:
describe how all parts of an extrusion line interact with plastic material to affect final product performance and quality
identify various polymer materials used to produce blown film and discuss important film properties
discuss in detail the hardware specific to blown film processing, including screws and dies
describe how bubble geometry creates the molecular structure that influences film properties
troubleshoot both extruder and film problems
operate the "Blown Film Extrusion Simulator"
What the attendees will learn:
hardware systems on an extruder and the functions that the extruder performs on the plastic material
various polymers used to produce blown film, including the rheological and solid state properties of these polymeric materials
upstream and downstream hardware specific to blown film extrusion
bubble geometry and the process parameters used to create specific bubble shapes
control systems, both manual and automated, for maintaining product targets
process/structure/property relationships in blown film: how bubble geometry affects molecular structure and film properties
basic blown film coextrusion principles
how to solve both extruder and film problems
how to operate the "Blown Film Extrusion Simulator"
Who should attend:
Operators
Set-up technicians
Process engineers
Quality control personnel
Floor supervisors
Plant managers
Film purchasers
Testimonials from previous courses
Seminar Hours & Cancellation Policy
Course Description
Introduction to Blown Film Extrusion
Extrusion Fundamentals Overview

Hardware Systems
Functional Zones

Introduction to Polymers

Polymer basics
Polymeric materials
Rheology – understanding flow

Film properties
Blown Film Hardware

Upstream (Solids Feeding)
Grooved Feed Throat
Screws for blown film
Blown Film Dies

Side Fed Die
Bottom Fed Die
Spiral Mandrel Die
Co-extrusion Dies
Oscillating Dies

Bubble Geometry
Bubble Cooling
Bubble Stabilization
Collapsing Frames
Haul-off
Winders
Film Treatment
Line Control
1st Day Workshop: "Introduction to Blown Film Extrusion"
Blown Film Processing

Process Variables vs. Bubble Geometry
Simulator Exercise I
Process/Structure/Property Relationship
Simulator Exercise II

Co-extrusion

Dies
Interfacial Instability
Applications

Troubleshooting

Extruder Problems

Surging
High Melt Temperature
Excessive Cooling
Low Output

Film Problems

Melt Fracture
Thickness Variation
Bubble Instabilities
Wrinkles
Die Lines
Gels
Low Mechanical Properties
Poor Optical Properties
Quality/Variation

2nd Day Workshop: "Blown Film Troubleshooting "
Course Description (continued)
Suggested Reading for this seminar: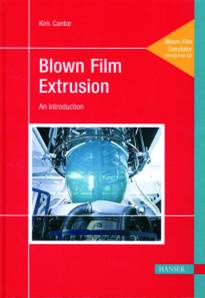 Books authored by Kirk Cantor:
Books authored by Chris Rauwendaal:
Understanding Extrusion
Polymer Extrusion
Troubleshooting the Extrusion Process
SPC in Injection Molding and Extrusion
Polymer Mixing
Mixing in Polymer Processing
When ordering books from Hanser Publications use the code RAU2014 for a 25% discount